I have not written in forever.  The reason?  My hands have been swollen and sore.  I am hoping that in time they will fully recover.  In the meantime, a short post is all I can do. Thankfully I have just the post.  A new recipe I want to remember AND share with you too!
To keep things short, and to save my hands, it all started with this amazing summer meal plan from Our Best Bites (check it out here).  I have been having each child take one night of the week to cook dinner.  I decided to have them use this meal plan to choose what they wanted to make for dinner.  Paul actually has Monday nights and he doesn't mind cooking, as long as the meal is already chosen for him and the ingredients already in the house.
So, I chose Teriyaki Meatballs for him to make, but the recipe used ingredients that we couldn't use, since we live in Costa Rica and our assortment of pre=made ingredients are few.  So I took the meal suggestion and searched for a homemade version and WE LOVED IT!!!  EVERYONE loved it!  That rarely happens with new recipes.  So I HAD to save it for future reference, and here it is!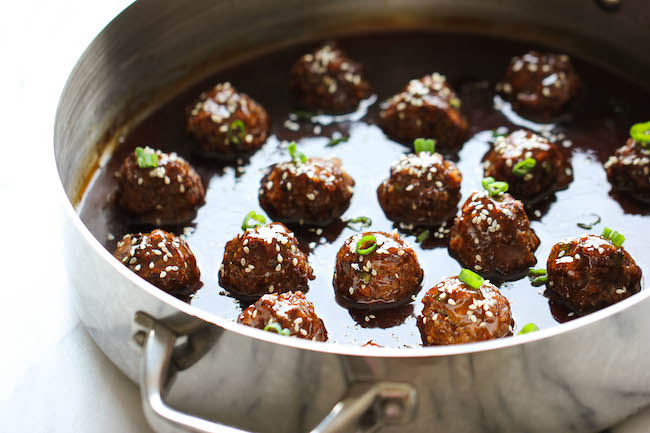 TERIYAKI MEATBALLS
Juicy, tender meatballs tossed in a super easy, homemade sweet teriyaki sauce!
INGREDIENTS:
1 pound ground beef
1 pound ground pork
1/2 cup Panko
2 large egg yolks
2 green onions, thinly sliced or 1/2 Tablespoon dehydrated onion
2 cloves garlic, pressed
1 tablespoon freshly grated ginger
1 teaspoon soy sauce
1/2 teaspoon white pepper
Sesame seeds, for garnish
FOR THE TERIYAKI SAUCE
1 tablespoon cornstarch
1/4 cup soy sauce
1/4 cup dark brown sugar, packed
1/2 teaspoon (fresh or) ground ginger
1/4 teaspoon garlic powder
2 tablespoons honey
DIRECTIONS:
Preheat oven to 400 degrees F. Coat a cooling rack with nonstick spray and place on baking sheet; set aside.
In a small bowl, whisk together cornstarch and 1/4 cup water; set aside.
In a small saucepan over medium heat, add soy sauce, brown sugar, ginger, garlic powder, honey and 1 cup water; bring to a simmer. Stir in cornstarch mixture until thickened enough to coat the back of a spoon, about 2 minutes.
In a large bowl, combine Panko, egg yolks, green onions, garlic, ginger, soy sauce and white pepper. Now add the ground beef and ground pork and with a wooden spoon, or clean hands, stir until well combined. Roll the mixture into 1 1/4-to-1 1/2-inch meatballs, forming about 40 meatballs.
Place meatballs onto prepared baking sheet and bake until golden brown and cooked through, about 20-25 minutes.
Serve meatballs immediately with teriyaki sauce, garnished with green onion and sesame seeds, if desired.
NOTES:
*Panko is a Japanese-style bread crumb and can be found in the Asian section of your local grocery store.
We hope you enjoy this easy recipe.  So many of the items should already be in your pantry.  Give it a try and let me know if you enjoy it as well.  Love you!
Thanks for stoppin' by!